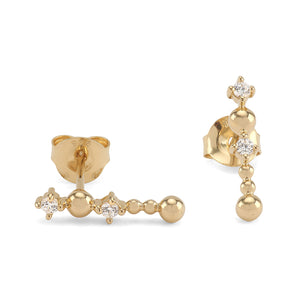 DESCRIPTION:
The Planets Align is an eye-catching constellation of two bright sparkling stars in line with two golden spheres. When planets align, life falls into place without any interference of self.

STYLE:
Stud earrings in 925 Sterling silver and gold plated in 14- Karat gold. Each set with Cubic zirconia.
The Planets Align can be worn as a single or in a pair or even mixed with the pendulum hoop and the planet drop earring.
The earring is sold as a single or in a pair.

COLLECTION:
From the Rythm collection.