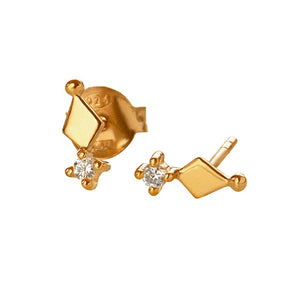 DESCRIPTION:
Kitah is a loving, caring and compassionate woman. The shape of a kite is seen in this design and is symbolical to freedom and unbreakability as a diamond.
Fly away as you wish for nothing can hold you back. 
The Kitah gold earrings are created for the woman who would like a discreet and elegant look. They can be worn as a single or in a pair.

STYLE:
Stud earrings in polished solid 14-karat gold.
Stone: Diamond in 2mm brilliant cut.
Quality: TW.
Total ct.: 0.03 ct. per piece.
Size: 0.9 cm.

The earring is sold as a single or in a pair.
COLLECTION:
From the Falling in Chains Collection.