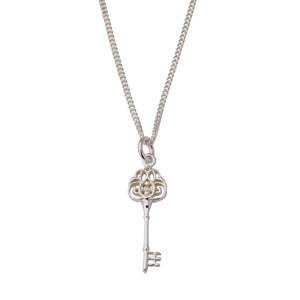 DESCRIPTION:
The silver Kinz Key is the main symbol of the Kinz Kanaan treasure. The key is the symbol of eternal life, eternal love and eternal friendship.The key has the power to unlock the personal treasures of the person who wears it.

Gift idea: Can be given as a gift for the woman who has achieved a life goal - a young woman who has reached a milestone in her womanhood or a person who needs a key to unlock a personal treasure of her own.

STYLE:
Pendant with chain in 925 sterling silver.
Size: 2cm (key).
Chain length: 53 cm.

COLLECTION:
From Summer 2019.