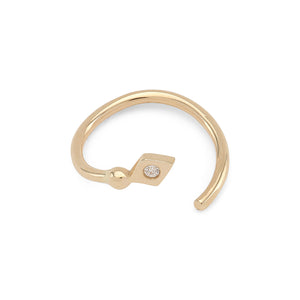 DESCRIPTION:
Fly your kite into the sky and capture your diamond. This piece is created for a simple elegant look with a bit of expense. The kite is known for its freedom and the diamond is known for its shine yet also its captivity.
Luckily the wind always blows all year long and this earring can follow you along your journey.  
Wear this piece of captive freedom and let your ear shine in minimalism.
Accessorize your ear with this small piece of elegant freedom.

STYLE:
Hook earring is made from 14-karat solid gold set with a small diamond in the middle.
Stone: 1 mm brilliant cut diamond.
Total ct.: 0.015ct.
The earring is sold as a single or in a pair.

COLLECTION:
From the Winter Tribute 2018.