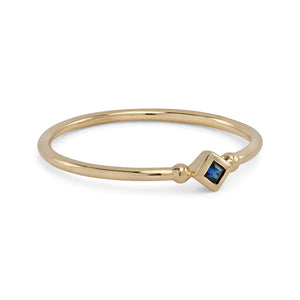 DESCRIPTION:
Sana is a brilliant girl. With the shine of a princess cut blue Sapphire and two golden spheres she understands how to light up the room. The color blue symbolizes trust, wisdom, loyalty, intelligence, confidence and faith. The throat chakra has the color blue, encourages you to communicate and speak your truth. 

GIFT IDEA: This ring can be given to your loved one, as an engagement ring, to your daughter, your sister or yourself. 

STYLE:
Gold ring 14 karat solid gold.
Stone: 0.05ct. Blue sapphire.

COLLECTION:
From the Summer Tribute 2017.