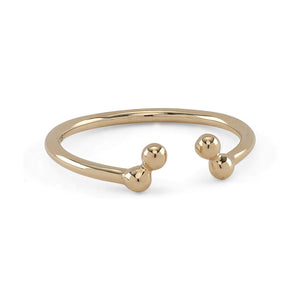 DESCRIPTION:
The four spheres of this gold ring symbolizes openness to the people around you –and the opening of opportunities reminding you to stay awake to new openings and to act upon them.
Wear the ring and let Lady Fortune help you stay open and focused.  Let Lady Fortune seize openning opportunities for you!   
''Forever pursue the unattainable horizon,
With each step growing more willing than sure.
Courage, faint heart! and lightly go''

STYLE:
Ring polished in solid 14-karat gold. 

COLLECTION:
From the Arabic love Collection