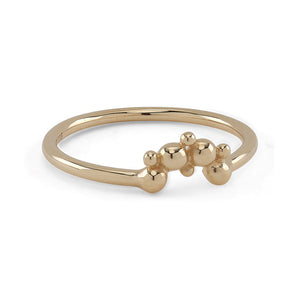 DESCRIPTION:
Lady luck gold is an elegant solid gold ring with a cluster of bubbling spheres in the shape of a horse shoe.
The horse shoe is believed to be a symbol of good luck and to protect them from evil and negative energy.
''good luck visits me
when I dream of my dreams.
my abundance is heading my way,
and the moonlight confirms my visions... Lady Luck''

STYLE:
Ring polished in solid 14-karat gold. 

COLLECTION:
From the Arabic love Collection.